Riding and hacking in Austria
Our family has been leading tours on horseback through the Hausruckforest in a natural and simple way on our good and reliable horses for over 30 years.
Hacking trough our woods is a magnificent adventure for our guests. Our trustworthy horses and our scenic surroundings enable a comfortable and fascinating trail riding experience for beginners and advanced riders.
Also booking is easy and convenient for you – just let us know one day in advance that you are coming and how large your party is. You can do that via phone or via email.
If needed you can additionally book accommodation in our little guest house at the farm with 10 beds.
We are looking forward to welcoming you at our farm.

What can you book/do at our farm?
You can book guided trail rides with your family, friends and colleagues on our reliable and trustworthy horses on trails through our beautiful hillsides and forests.
You can "walk" a horse with your child on its back through the forest – your child should be 2 years and older.
Your children between 10 and 16 years of age can stay with us on a riding camp without parents and enjoy stressless holidays in a cosy and child friendly environment including full board of home-cooked meals.
You can stay at our guest house in Scandinavic style and spend your holidays with us in Upper Austria in a relaxed and calm atmosphere.
You can buy home-bred horses from our large herd.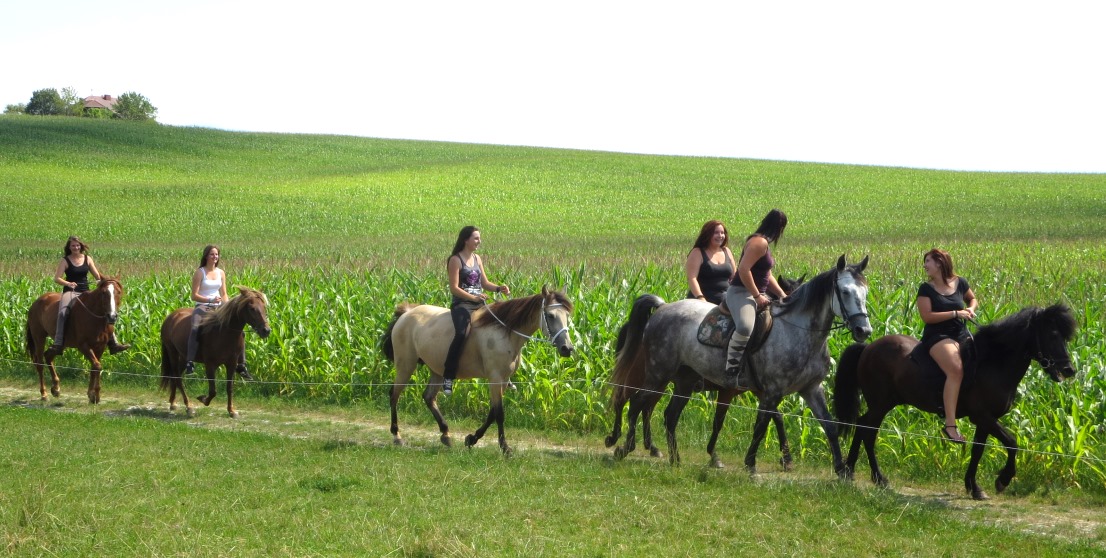 Riding like real Cowboys
We offer guided trail rides throughout the whole year but our main season is between April and October.
You can book a guided tour every day or you can join a guided trail ride at
10 am (10.00) and 2 pm (14.00) and/or 5pm (17.00) every Sunday, Saturday or every single day in July and August.
On most days there are two tours each time, one for beginners and one for advanced riders.
We all speak English at our farm (only the grandparents not so much) and you can have a guided tour in English and Spanish.
There are over 400 miles of riding trails to explore if you have the time. Mostly our trail rides last for 90 minutes that is one and half hours but on demand we can offer longer trail rides also with stops for drinking and eating at certain restaraunts.
When you know the horses and the trails and you are over 16 years of age you can also explore the forest on horseback on your own. Don't worry the horses will find their way home and will keep you safe but be careful they always choose the fastest way home and know shortcuts you are not aware of!
What else can you find at our place?
Our farm is especially attractive for families with younger children who can stroke bunnies and goats and chase after chickens and biddies or play at our playground or use one of the many bikes and other rides like bobby cars on our farm.
We have four children of our own and we know that children like to move and fool around therefore we also have an old Jeep to playdrive and we often have bonfires in the evenings.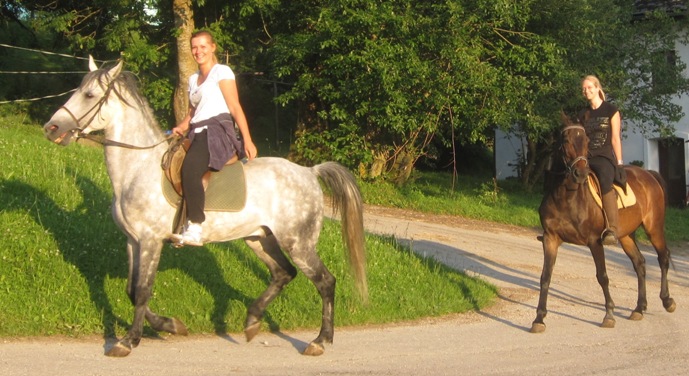 How you find us
Our farm is located between Linz and Salzburg and can be found easily. There is also a route planner on our website. When you found our farm, the hardest part is over, we'll ask about your riding experience and whether you would like to join the beginner or the advanced tour. We will find the right horse for you among our 60 horses that are for guest riding – we have many different sizes and breeds; mostly Islandic ponies and cross-breeds between Missouri foxtrotters and Islandic horses but also Haflinger horses, crossbred horses and others.
Contact, booking and information